Aircraft not stationed at Schleissheim, without exception, need to apply for PPR to land.
The application must be filled out in a timely manner.  Please first read the information on this page.  Afterwards, please click on the link to "PPR Antrag/Application" on the left, and fill out the online PPR application.  Approval will provided on the telephone number given or sent by E-mail.
Applications can be filled out each year after 1 April for any time in the current year.  The Airfield Schleissheim discontinues the application process once the allowed allotment of 500 landings has been reached.
Important Information:
Do not confuse the four-lane road (B13) with the eight-lane motorway (A9), otherwise you will violate Munich (EDDM/MUC) Airspace!
Traffic Circuit chart:  For Information only!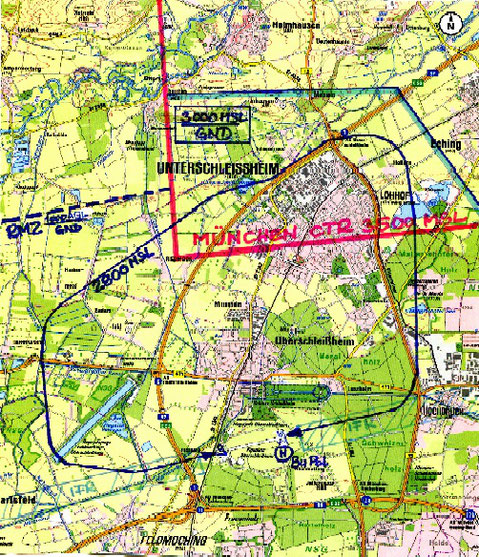 Airspace Oberschleißheim
Release 29 JAN 2019:
Schleissheim Info 131.130 Ge
Airfield Schleissheim is located in the south/west outside the boundry of EDDM controlled airspace.
Flightconditions Airspace G and Radio Mandantory Zone. ATIS Oberschleissheim (Bundespolizei) 135.405 Mhz.
Please pay attention, north-east part of traffic pattern (Unterschleißheim) is located inside boundry of EDDM controlled airspace.
Flightconditions VMC Minima Airspace D,
ATIS München 123.130.
Langen Information 126.950
Please make yourself familiar with this situation, as there have been instances of violating airspace in the past.
Please fly the ciruit only as shown on the official publication from the DFS.  Direct approaches to Runway 07 from the West are to be flown over the soutwest end of the rowing regatta.  Direct approaches to Runway 25 are over the motorway crossing München-Nord (A9/A99).  Southwest of this crossing is the Allianz Arena Football stadium which cannot be missed.
Please plan your flight carefully.  If you have any questions, please feel free to contact us.
Time UTC
WIN 0800 - 1800-SS PPR
SUM 0700 - 1700 PPR
Charge Fees
New Charge Fees valid after july 1st, 2013
Aircraft Class
Landing fee
Overnight fee

Microlight &

Motorglider

  €20.00  
  €12.00  

up to 2 Tonnes

(SEP & MEP)
Helicopters up to
2 Tonnes with
piston engine

  €25.00  
  €12.00  

up to 2 Tonnes

(SEP & MEP) without

noise certificate, and

Helicoptors with
turbine engine

  €35.00  
  €15.00  

over 2 Tonnes

(SEP & MEP)

  €50.00  
  €20.00  
others
on request
on request